Time flies when you're having fun. Another wonderful week in Indonesia and in Malaysia and Singapore. Back in Jogja I went for a jeep tour on the Merapi. After the last eruption many plants allready grew back. The river has vaporized, but now it's possible to have fun in the mudpools by driving fast through them. After dinner with my good friend Efan and saying goodbye to everyone here, it was time to go to Bengkulu.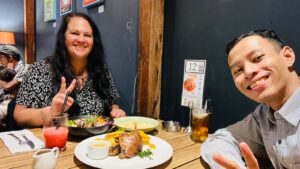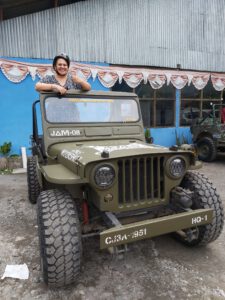 Bencoolen (Bengkulu)
My oldest ancestors who I could trace back are Henry Lewis who left Scotland (or England) around 1783 and his wife, an Indonesian woman from Bencoolen, now Bengkulu (I'm not sure about ner name). They had 4 children. All of them worked at Fort Marlborough until 1824 and were close to Sir Stamford Raffles. I visited the fort (which was a trading post back then) and also found my ancestor's grave. The area is very beautiful, but the sea is very dangerous. I met many kind people here and everyone wanted to take a picture with me and were very i terested to hear about my ancestors. One of them happens to be the descendant of the guy who discovered the famous flower Rafflesia Arnoldi.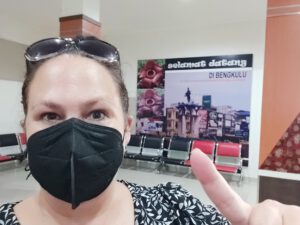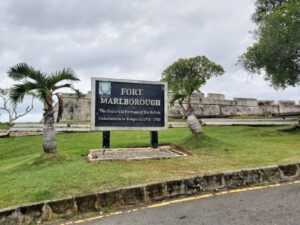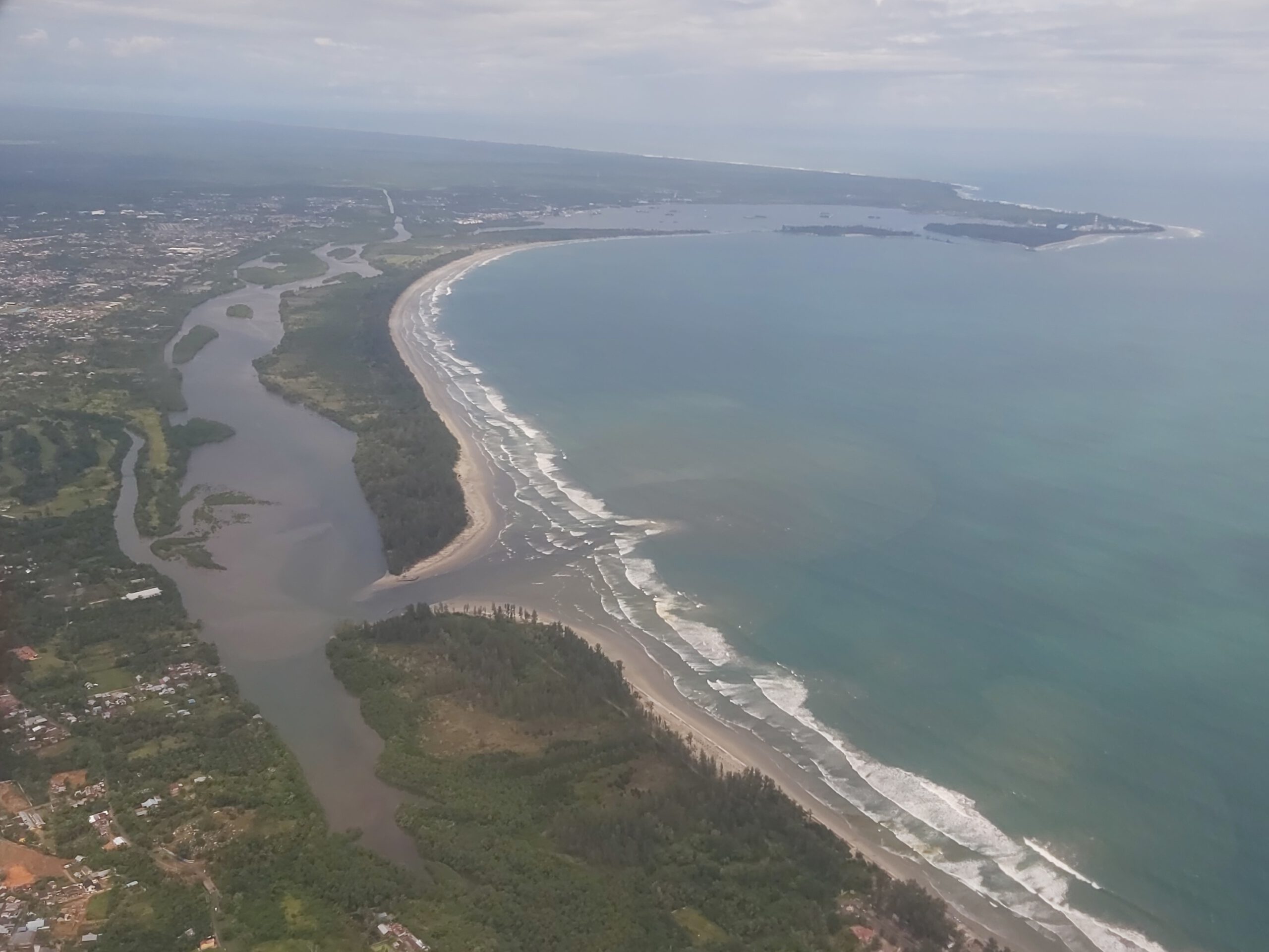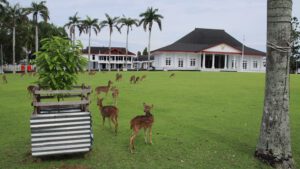 Jakarta
Last weekend I was in Jakarta for the Formula E. That was amazing! I had a very good seat to watch the race and there were good bands playing. And reporters of two media sites interviewed me about why I've come all this way to see the Formula E. The hotel where I stayed had a rooftop bbq party with a great view on the city. I've also visited the former office where my grandfather used to work. It's a museum now. The kind people who work there were also interested to here that my grandfather used to work here and showed me a book with many pictures from that time.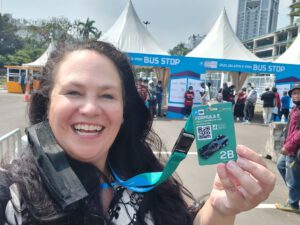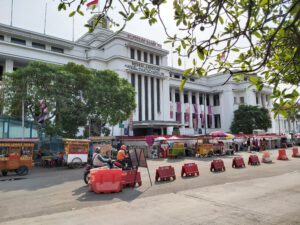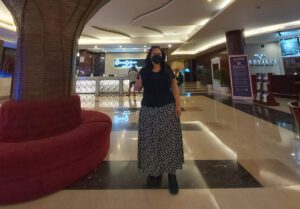 Penang (Pulau Pinang)
Following the path of my ancestors, who went to Penang, I've visited this island in the north of Malaysia. Winson and his friends and mom picked me up for dinner. The next day they gave me a tour around George Town and the rest of the island and told me more about my ancestors here. One of my ancestors was resident councillor of Penang until 1860. When he retired, he remained in Penang. He stayed at the Suffolk house, this was also the meeting place where Raffles discussed the founding of Singapore. I've also visited his grave and the graves of his wife and daughter. And I went to Fort Cornwallis, where he was welcomed with a salute. When he was sick he spent some time in a little house on Penang hill, which I visited too and saw many monkeys up there and an amazing view. Penang is a very nice island, good food and well known for it's street art. George Town, the capital, is on the UNESCO World heritage list.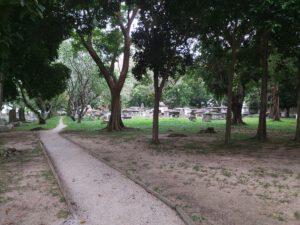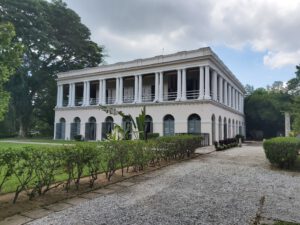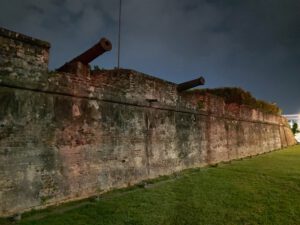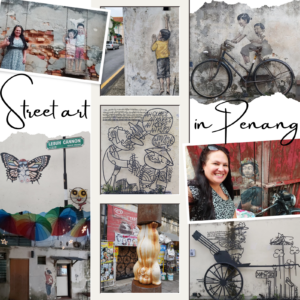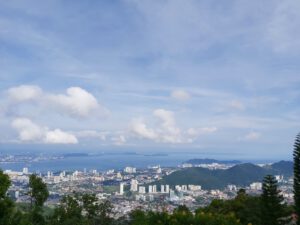 Singapore
Four days ago I arrived Singapore. I stayed near the Raffles Landing Site at the Bencoolen hotel and went to see his statue. There were two otters playing at the boulevard. I went to the Gardens by the sea, very beautiful! And walked around the city. When I arrived at the Botanic gardens it suddenly started to rain heavily. So I went there again the next day, my last day here. Unfortunately I don't have enough time to see and do everything here, so I'll have to come back. And I would like to see more of Indonesia too. Next time! The last day in Singapore was wonderful. The Botanic Garden was very beautiful and so many orchids.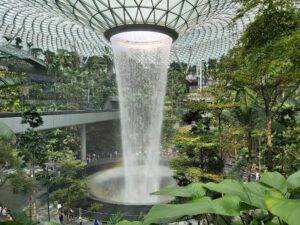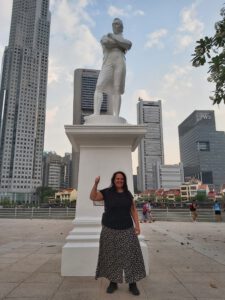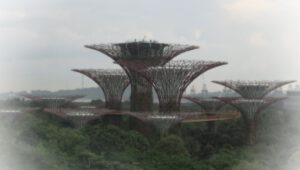 In the evening it was time to leave and go back to the Netherlands (with transits in Jakarta and Doha). That was a bit of a nightmare. When the airplane landed in Jakarta, the engine wouldn't switch off. Eventually they fixed it after an hour and we were allowed to leave the airplane. Then my baggage was missing. Luckily the airport crew found it just in time to go through immigrations. There, I had to buy a voa again and check in again. When I arrive at the check in counter I suddenly had to pay a lot extra to check in. When I ask him about this he keeps changing the reason and amount. It doesn't feel right and up until now everyone was so kind and helpful, but what can I do? I can't miss my flight, because I have to go to work on monday and boarding starts in 3 minutes. Bad end of this day, but when I wake up on the plane the view is amazing.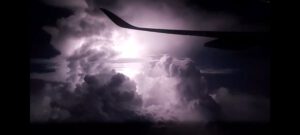 Finally, I arrived in my house after 28 hours from Singapore. Well "all is well that ends well". Allthough I would have loved to stay in asia. I'm looking forward to see my friends and family again, especially my little nephew and niece and I'm going camping with them next weekend.
I'm going to miss all my friends in asia. Terima kasih for a wonderful time in Indonesia, Malaysia and Singapore. See you next time, sampai jumpa! 😄